Abey announces partnership with IGS and BIMcontent.com
Abey, a leading manufacturer of Kitchen, Bathroom and Laundry fixtures, announces partnership with IGS to provide high-quality Revit content via the BIMcontent.com platform, streamlining and maximising access to Architects and Building Designers.
Responding to industry trends and customer demand, Abey partnered with IGS to develop a high-quality Revit library and to develop an effective specifier engagement strategy. Abey's Revit library of Sinks, Baths, Mixers and Spouts is available via BIMcontent.com.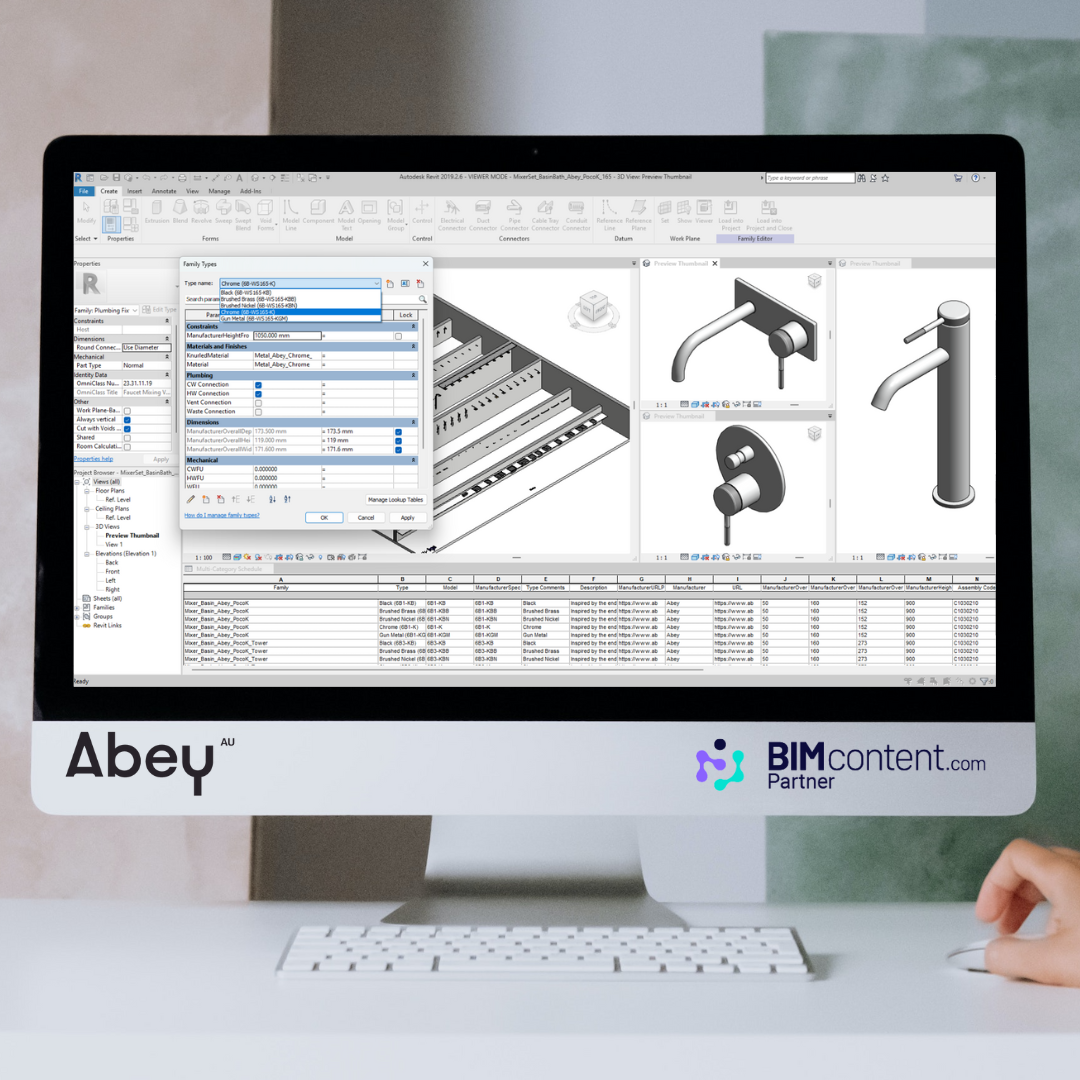 Abey is renowned amongst designers and architects for their ability to supply complete Kitchen and Bathroom packages to complement all designs and budgets. For over 60 years, the company has been synonymous with quality and innovation, bringing the latest designs and technology to Australia. Their range of products is a result of consistent and ongoing product development with a focus on innovation and quality.
As a market leader with close ties to industry-leading designers and Architectural practices, Abey recognised the growing trend of Building Information Modelling (BIM) workflows being used in project design and the increasing demand from specifiers for project-ready, data-rich BIM content from product suppliers.
Abey also noted Revit as the most frequently used project design software among designers, the importance of Revit content being developed to best practices, and the specialised nature of Revit content creation.
With the conception of BIMcontent.com by IGS, Abey joined as a foundation partner to streamline access of their Revit library to the growing community of specifiers using the platform.
This partnership involves the creation of data-rich models of Abey products from leading product lines like Lucia and Stile. The Abey Revit library of over 200 products has been developed to a consistent, high-quality standard, with consideration given to various types of designers and user preferences to integrate seamlessly into projects. The library is available to download either as individual Revit families, as 'Collections' (by Product Range and Revit Version), as a 'Virtual Showroom' (a Revit project file with all families & types loaded in) or as a bulk 'Download All' option. Perhaps most notably, the library of Revit families is available in both Non-Hosted and Face-Based formats. By leveraging Autodesk's visualisation capabilities, these models allow architects and designers to produce life-like renderings of Abey's products within their designs.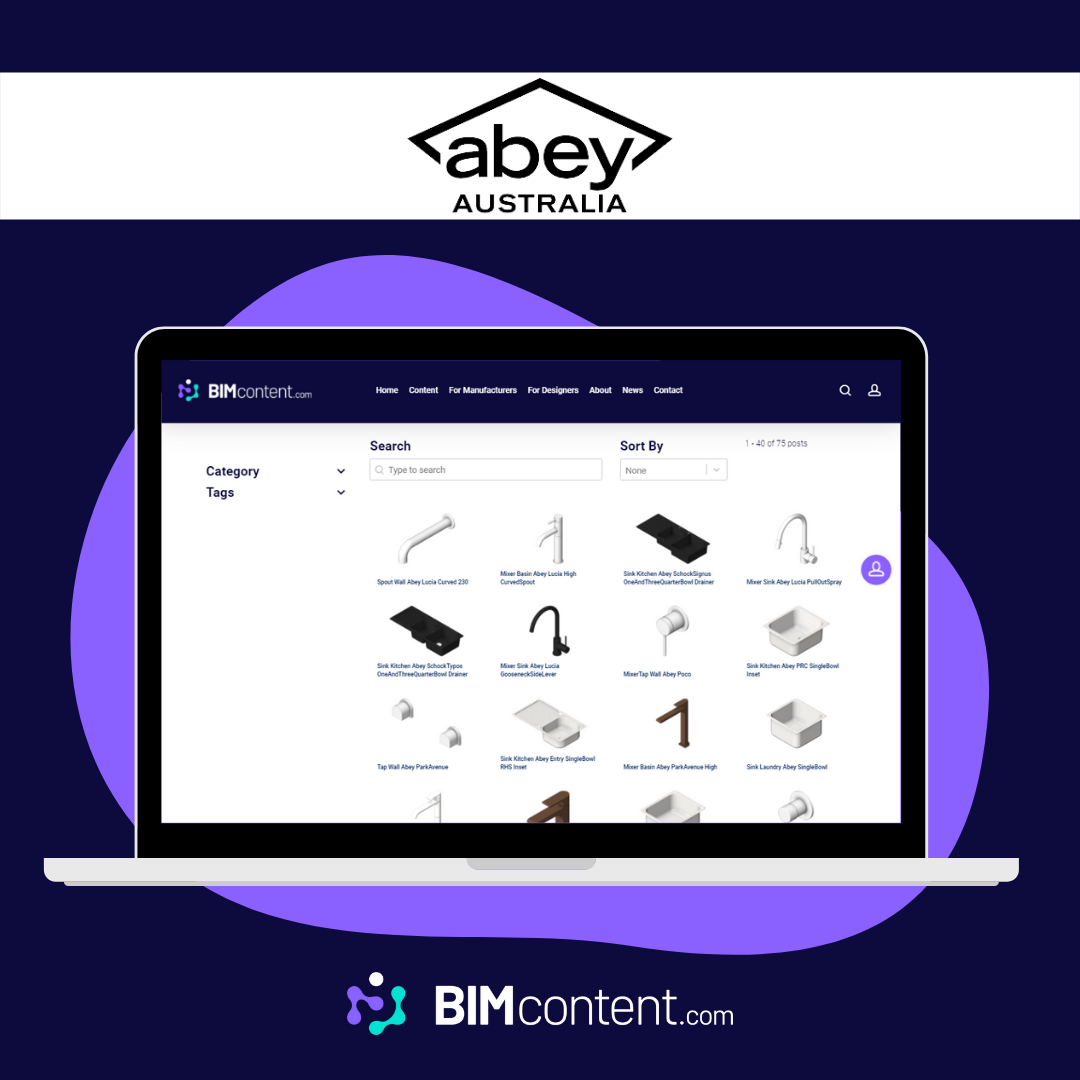 The ability to connect with architects, designers and specifiers with solutions that can assist in delivering their customers goals for projects, was a key reason for Abey's decision to partner with IGS group and BIMcontent.com.
With BIMcontent.com having such a fast-growing user base, it presents a great opportunity for Abey to make their BIM content available via the platform and maximise industry adoption.
Of the business impacts resulting from their BIM strategy to date, Abey has been able to have a better reputation amongst architects, designers and specifiers and improve relationships through better collaboration.
About Abey
For over 60 years, Abey Australia has been synonymous with quality and innovation, bringing the latest designs and technology to Australia. With over 3,200 products, our range is a result of consistent and ongoing product development with a focus on innovation and quality. Amongst our offering is the largest range of Kitchen Sinkware & Appliances in Australia as well as exclusive Italian collections including Gessi, Armando Vicario and Barazza. To learn more about Abey visit www.abey.com.au
About BIMcontent.com
BIMcontent.com is a platform that allows building designers and product manufacturers to collaborate through the sharing of digital product data in the form of quality-controlled Revit and Archicad libraries. Developed by industry-leading BIM Content specialists IGS Group, BIMcontent.com optimises the process of designers accessing free, quality-assured BIM content for their projects, and provides a range of sales and marketing opportunities for manufacturers seeking to grow both their brand and specification-driven sales. To learn more about the platform or to start downloading, visit https://bimcontent.com