IntraSpace announces partnership with IGS and BIMcontent.com
IntraSpace partners with IGS to provide high-quality Revit content via the BIMcontent.com platform, streamlining and maximising access to Architects and Building Designers.
Responding to industry trends and customer demand, IntraSpace partnered with IGS to develop a high-quality Revit (BIM) content library and to develop an effective specifier engagement strategy. IntraSpace Revit library of Medical Storage, Furniture, Lockers, and Library / Office Fit-out products is available via BIMcontent.com and the IntraSpace website.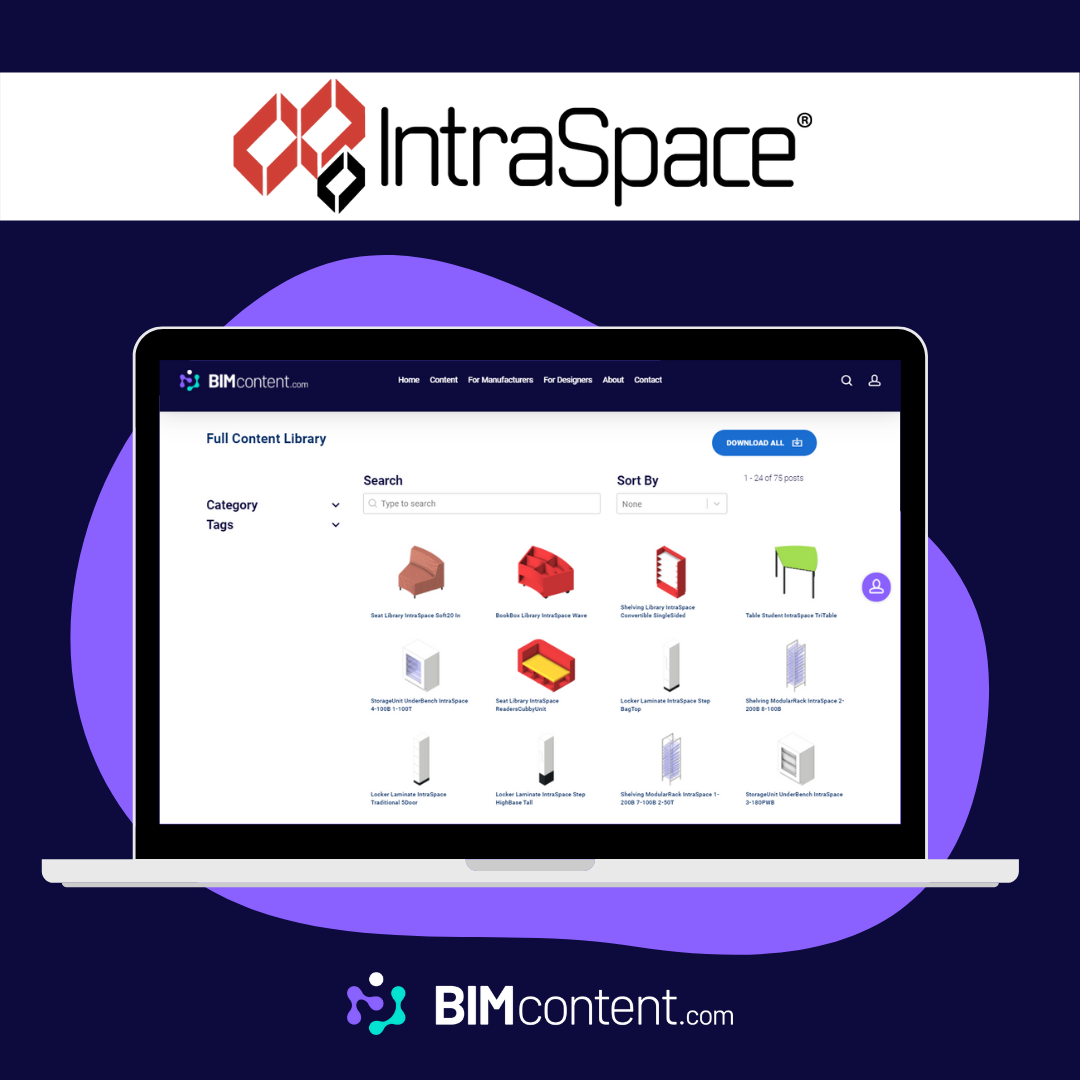 As a market leader with close ties to industry-leading designers and Architectural practices, IntraSpace recognised the growing trend of Building Information Modelling (BIM) workflows being used in project design and the increasing demand from specifiers for project-ready, data-rich BIM content from product suppliers.
IntraSpace also noted Revit as the most frequently used project design software among designers, the importance of Revit content being developed to best practices, and the specialised nature of Revit content creation.
With the conception of BIMcontent.com by IGS, IntraSpace joined as a foundation partner to streamline access of their Revit library to the growing community of specifiers using the platform, and to utilise the website integration feature which ensures cross-platform consistency and optimal user experience when accessing the Revit content from the IntraSpace website and BIMcontent.com.
About the IntraSpace Library
The IntraSpace Revit library of Medical Storage, Furniture, Lockers, and Library/Office Fit-out products has been created with the objective of finding the balance between functionality, documentation output, visualization capabilities, and performance in a Revit project environment. Available to download in Revit 2019 and all subsequent versions and includes an all-in-one Revit 'Virtual Showroom' for efficient library access, browsing and QA.
A notable feature of the IntraSpace Revit Library is the highly configurable Metal Library Shelving families. Within the families, end panels and shelf types are customisable and the size and number of shelves are incorporated as 'Types'. The shelves will be space evenly by default but can be customised if required.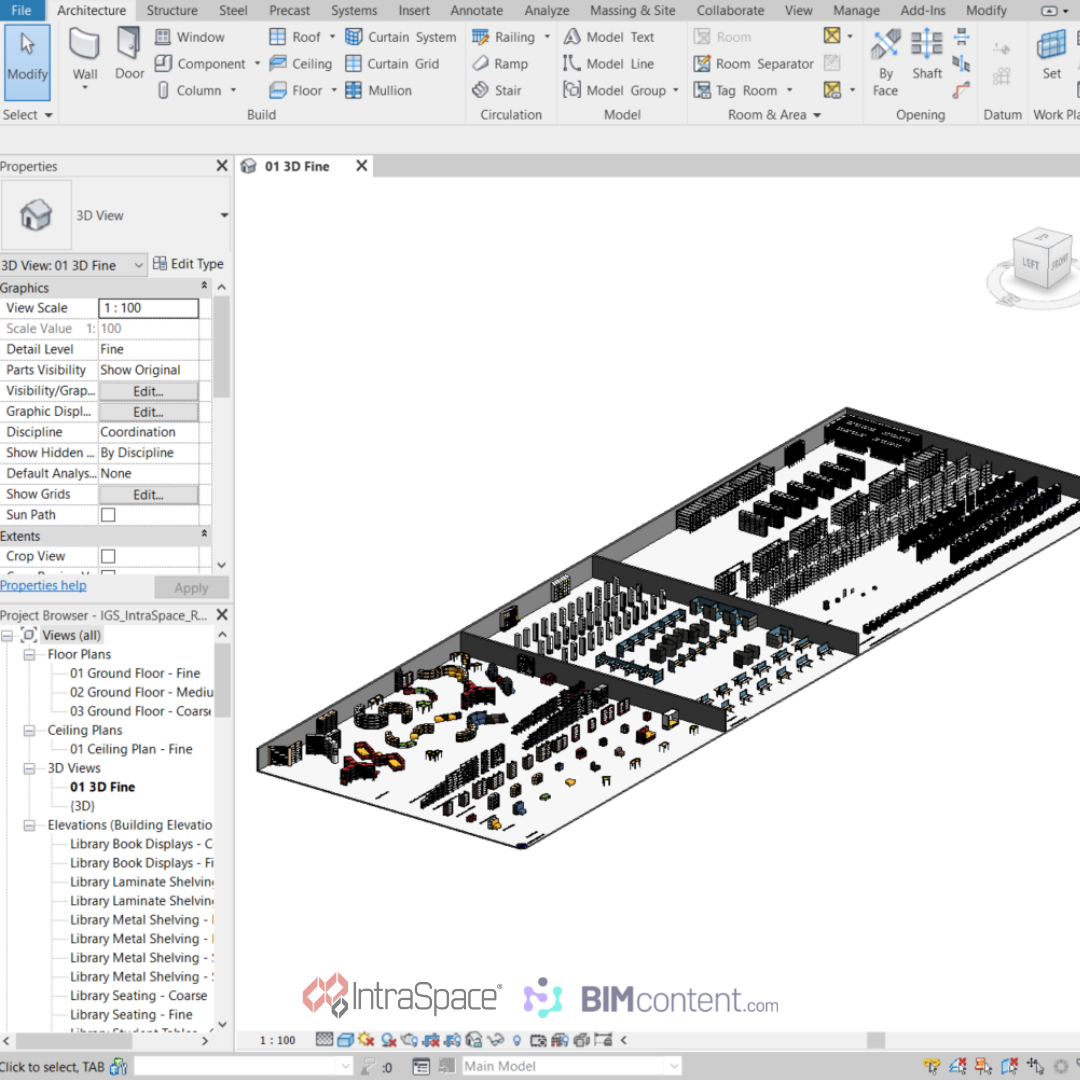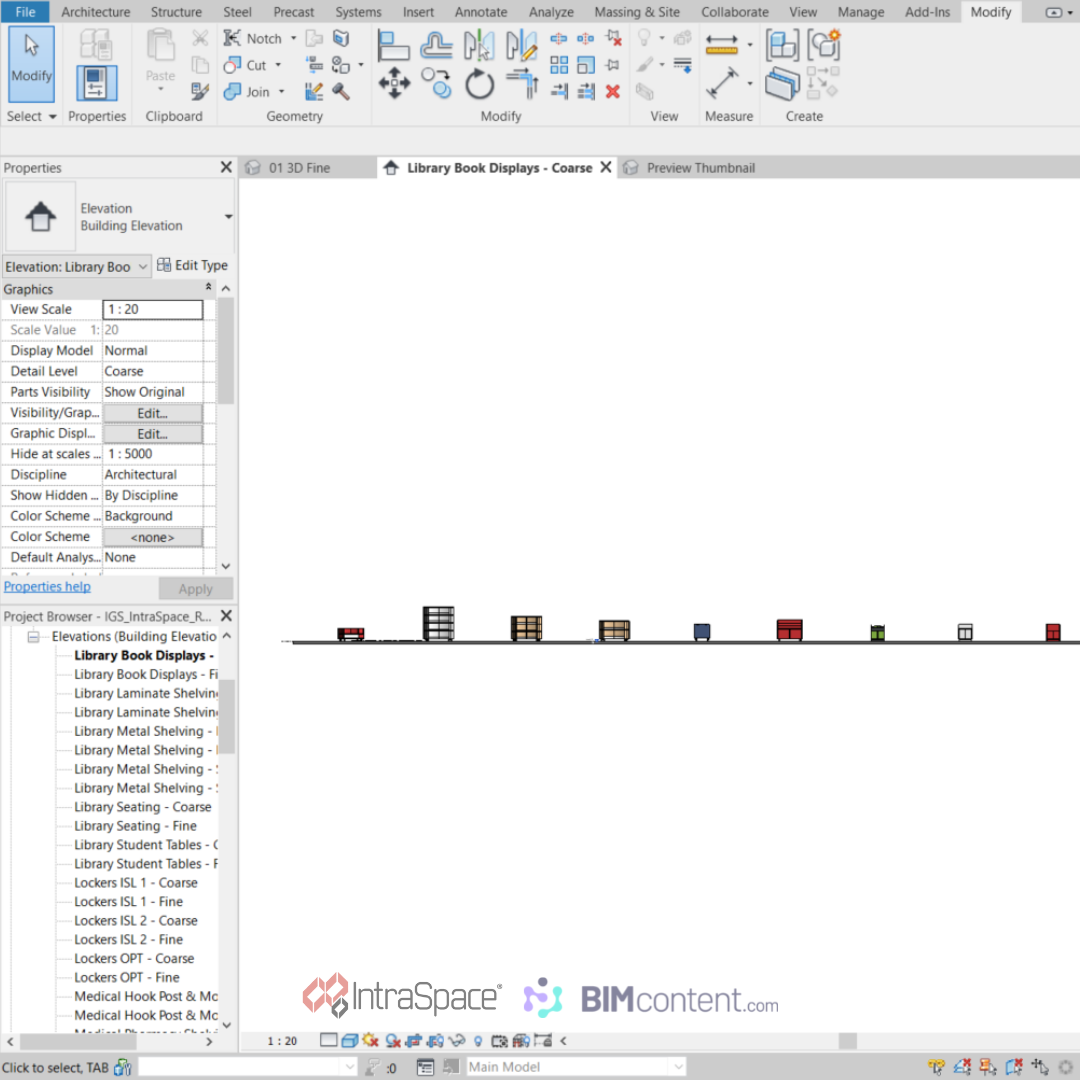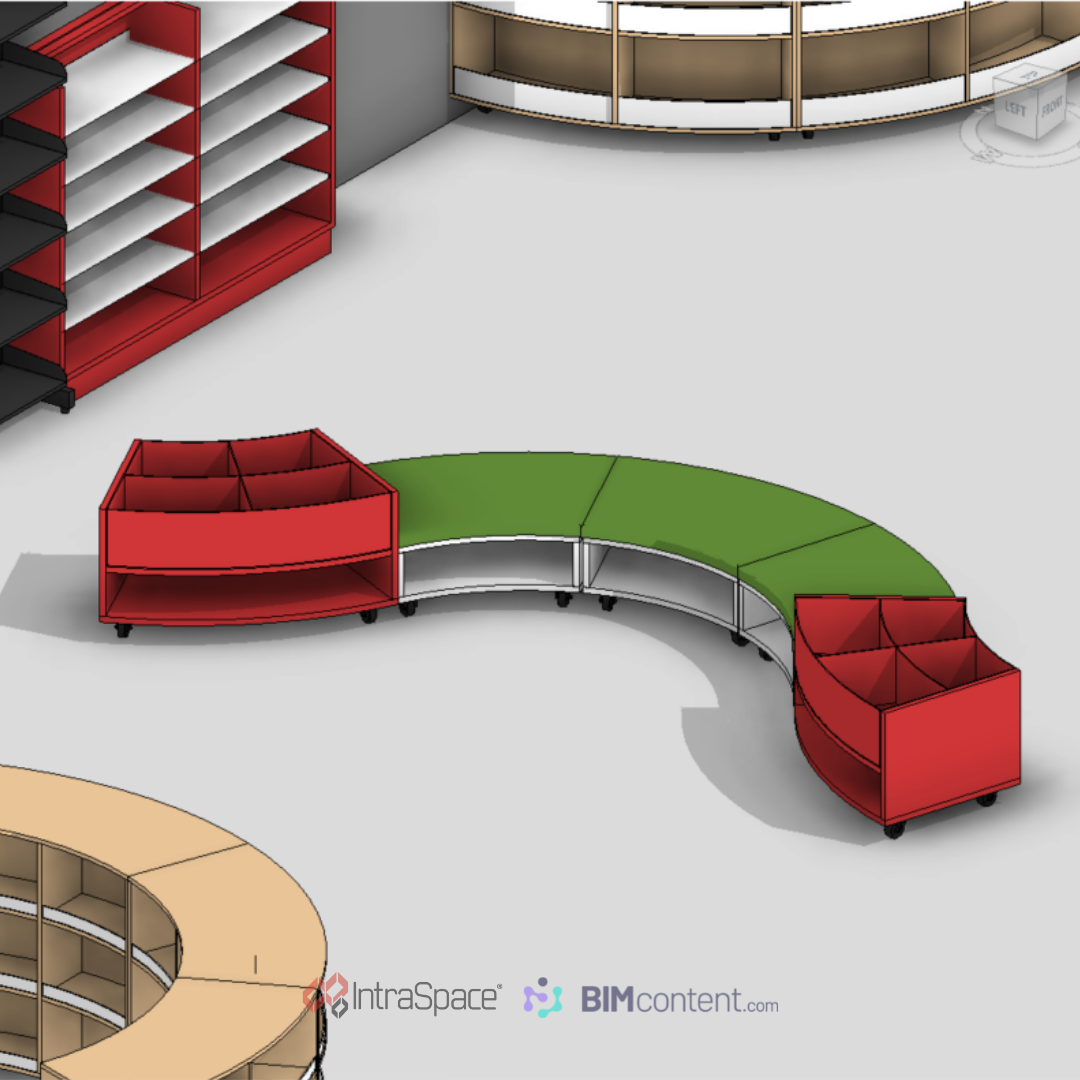 "High quality Revit content for Commercial Furniture continues to be one of the most requested forms of content from Architects and Interior Designers, so we're thrilled to have created this library for IntraSpace and to have it on BIMcontent.com. One of the reasons for this demand is the highly configurable nature of products like storage solutions, shelving, lockers and modular furniture, which means the content ideally needs to be highly parametric and accurately representative of the products being procured. Developing Revit content like this can be extremely time-consuming and technically quite challenging, so designers are greatly appreciative when manufacturers provide them quality content that helps them spend more time designing their projects and less time modelling components. The IntraSpace Revit library is exactly the kind of content we know a lot of designers are looking for.

Luke Johnston

Managing Director at IGS Group
For a company like IntraSpace that has a dynamic Revit content library, having the content syndicated across both the BIMcontent.com platform and IntraSpace's website means any changes made to the library are immediately available to specifiers and consistent across both sites, which provides great operational benefits to IntraSpace and a great service to IntraSpace's specifier customers.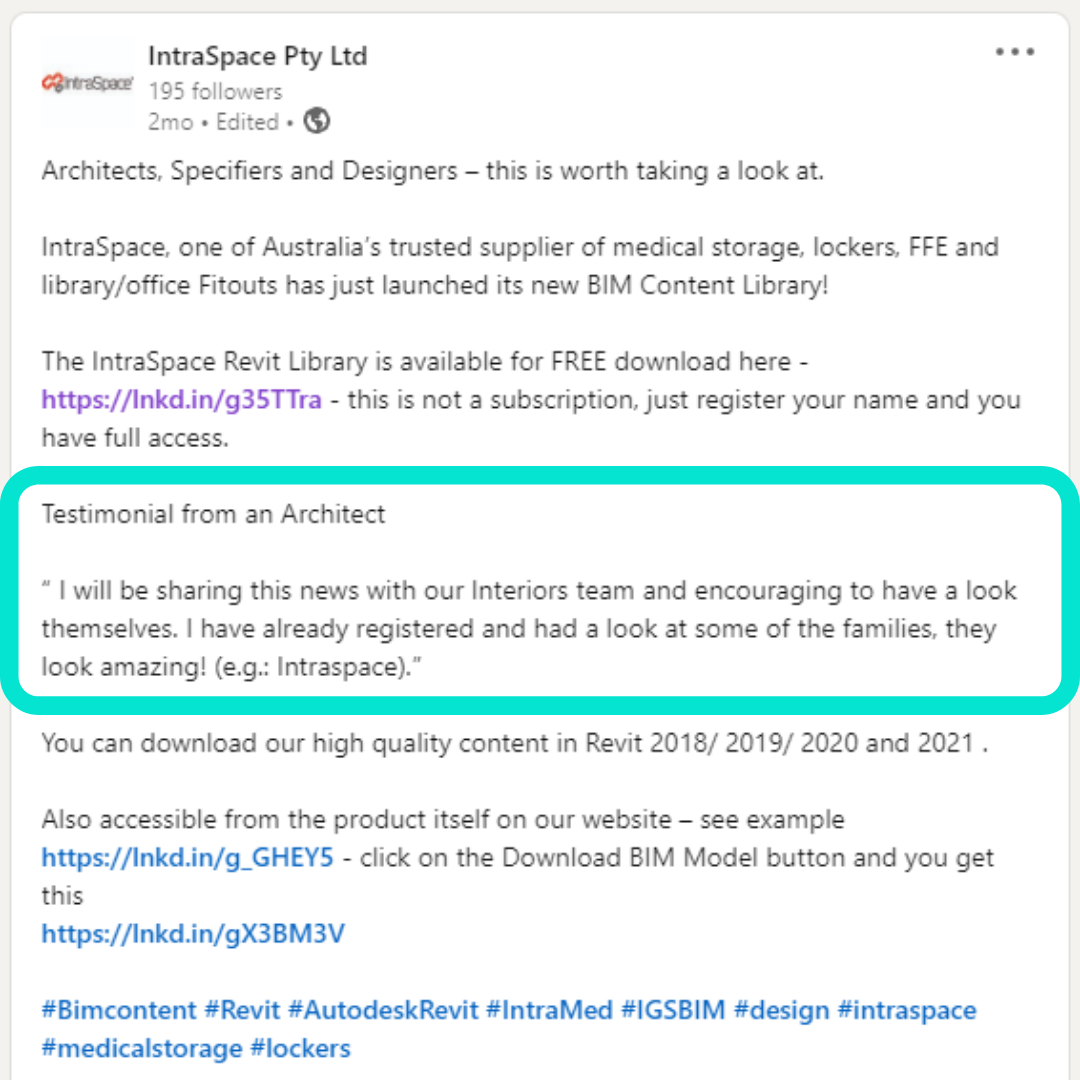 To ensure designers can access the library using workflows optimised for browsing and downloading BIM content, IntraSpace is utilising IGS's BIM Content hosting platform and project design resource, BIMcontent.com. In implementing BIMcontent.com's website integration feature, IntraSpace has ensured designers are able to experience the same optimised search, preview and download workflows on both the IntraSpace website and BIMcontent.com.
Of the business impacts resulting from their BIM strategy to date, IntraSpace has observed a range of benefits including their BIM content being used by specifiers in sales-generating projects, improved specifier engagement processes and the general significant goodwill among specifiers who are greatly appreciative of IntraSpace's investment in providing them with critical project design and documentation assets. IntraSpace also sees the ability to analyse BIM content utilisation and engagement metrics through the BIMcontent.com platform as a key driver in quantifying ongoing investment in BIM and providing valuable business insights.
About IntraSpace
IntraSpace are healthcare and education storage experts who know maximum efficiency can only be obtained when storage is seriously considered as an integral part of the planning process. With more than 15 years' experience in working with the education, government and corporate industries, IntraSpace designs and installs high-quality healthcare storage solutions, office and library fit-outs that function seamlessly within the everyday demands of your space. Using modular concepts throughout the range enables IntraSpace to offer concepts that best use spaces, enhance workspaces, and provides the flexibility to adapt to changing needs. IntraSpace provides effective and efficient storage and office furniture solutions for libraries, schools, universities, healthcare and corporate offices. To learn more about IntraSpace visit www.intraspace.com.au
About BIMcontent.com
BIMcontent.com is a platform that allows building designers and product manufacturers to collaborate through the sharing of digital product data in the form of quality-controlled Revit and Archicad libraries. Developed by industry-leading BIM Content specialists IGS Group, BIMcontent.com optimises the process of designers accessing free, quality-assured BIM content for their projects, and provides a range of sales and marketing opportunities for manufacturers seeking to grow both their brand and specification-driven sales. To learn more about the platform or to start downloading, visit bimcontent.com